Customize Your Ride with Car Wrap, Ceramic Coating, and Wheels Powder Coating
Have you ever dreamt of giving your car a fresh, unique look that sets it apart from the crowd? Well, dream no more because at our shop, we specialize in transforming vehicles into stunning works of art. Recently, we had the opportunity to work on a Mercedes-Benz CLS63, and the results were truly remarkable. In this blog post, we'll take you through the step-by-step process of how we completely revamped this luxury sedan with a full color change, a captivating car wrap, repainted calipers, and wheels powder coated to perfection.
Full Color Change: A Bold Statement
The first step in this Mercedes-Benz CLS63 transformation was the full color change. The car's original black exterior was stunning, but the owner desired a more eye-catching appearance. To achieve this, we decided to go with a striking matte metallic blue wrap. The matte finish added a touch of elegance, while the metallic blue hue exuded confidence and sophistication. This bold color choice would undoubtedly make the vehicle stand out on the road.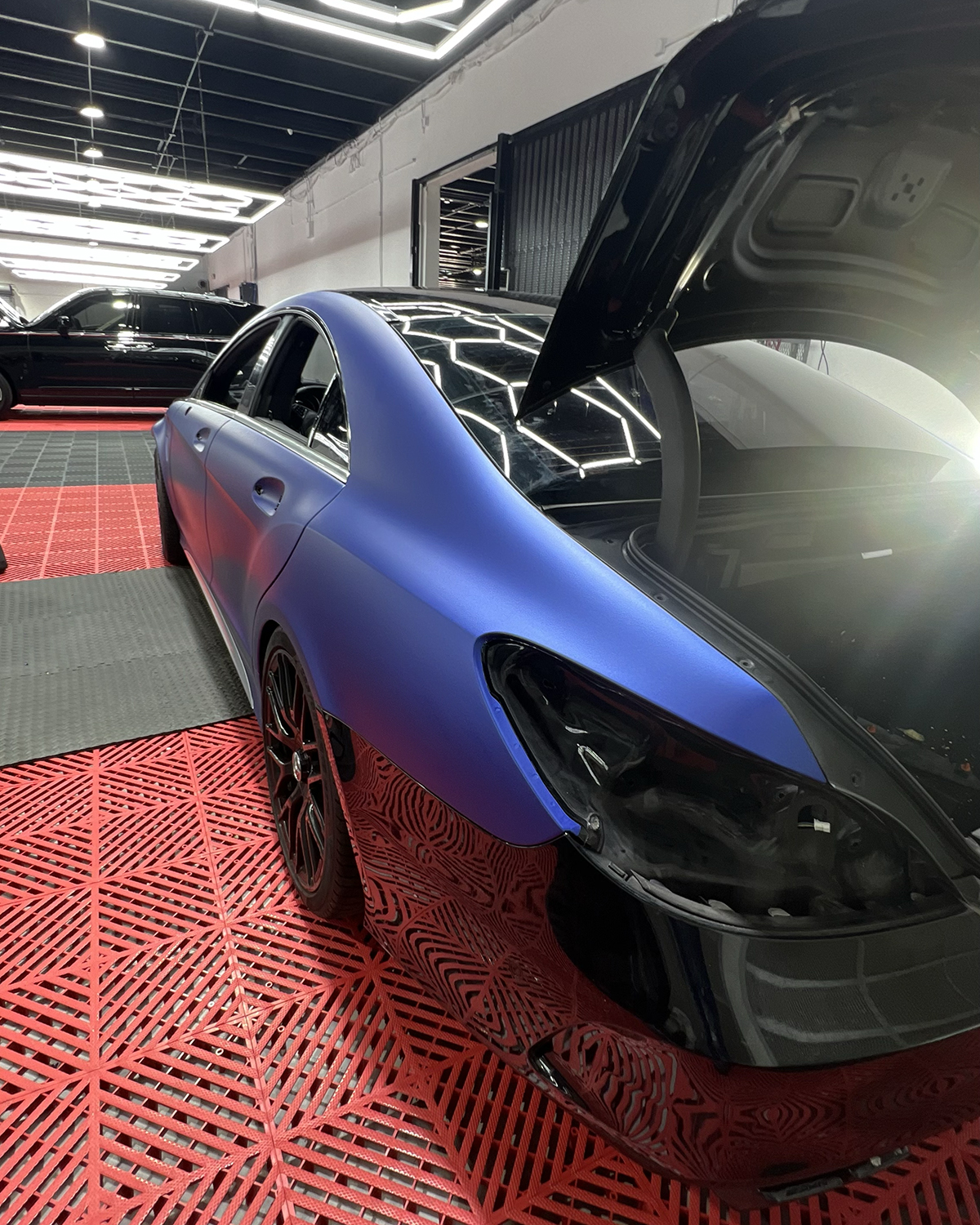 Car Wrap: Unleashing Creativity
Installing the car wrap was a meticulous process that required utmost attention to detail. Our team of skilled professionals ensured that every contour and curve of the Mercedes-Benz CLS63 was wrapped flawlessly. The vinyl wrap not only transformed the car's appearance but also provided an added layer of protection for the original paintwork. The result was a seamless and captivating finish that surpassed the owner's expectations.
Repainted Calipers: Harmonizing with the New Look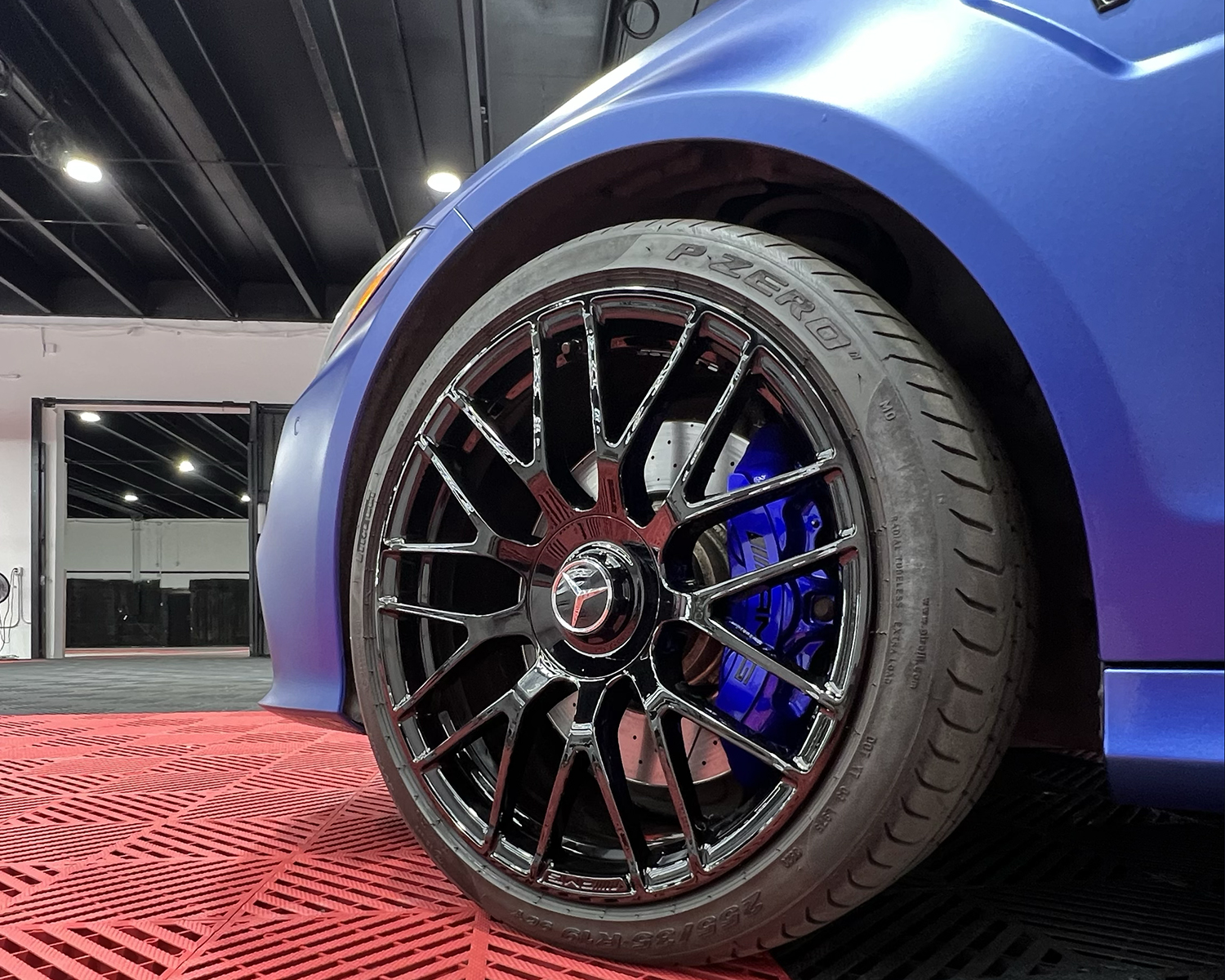 To complement the new color scheme of the car, we decided to revamp the calipers as well. We repainted them in the same captivating metallic blue color as the car wrap. The freshly painted calipers added a touch of coherence and sophistication to the overall aesthetics. Now, every time the wheels turned, glimpses of the vibrant blue peeked through, captivating the attention of onlookers.
Wheels Powder Coating: Elevating Style and Durability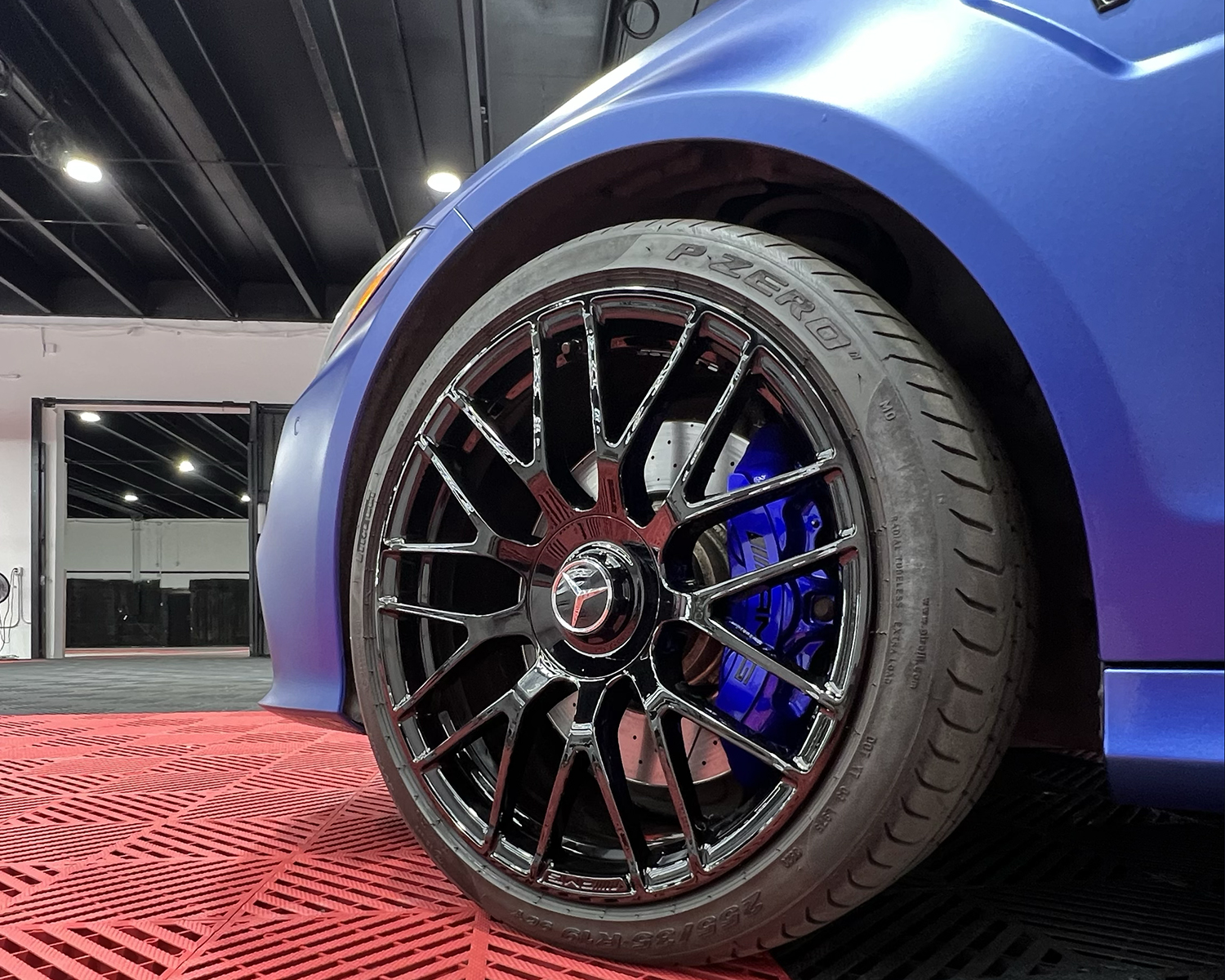 The final touch to this remarkable transformation was the wheels powder coating. We opted for a glossy black finish that created a stunning contrast against the matte metallic blue of the car wrap. The wheels were carefully sandblasted to remove any remnants of the old finish, ensuring a pristine surface for the powder coating. Once the dry powder was expertly applied, the wheels went through a baking process, resulting in a durable, long-lasting, and flawless finish. The glossy black wheels provided the perfect balance between style and functionality.
Conclusion
In conclusion, the transformation of the Mercedes-Benz CLS63 was an awe-inspiring journey that showcased the power of car customization. With a full color change, an attention-grabbing car wrap, repainted calipers, and wheels powder coated to perfection, this luxury sedan underwent a jaw-dropping makeover. The end result was a head-turning masterpiece that turned heads wherever it went. At our shop, we take pride in our ability to bring our customers' automotive dreams to life. If you're seeking a unique, personalized look for your vehicle, trust us to unleash your imagination and make your automotive vision a reality.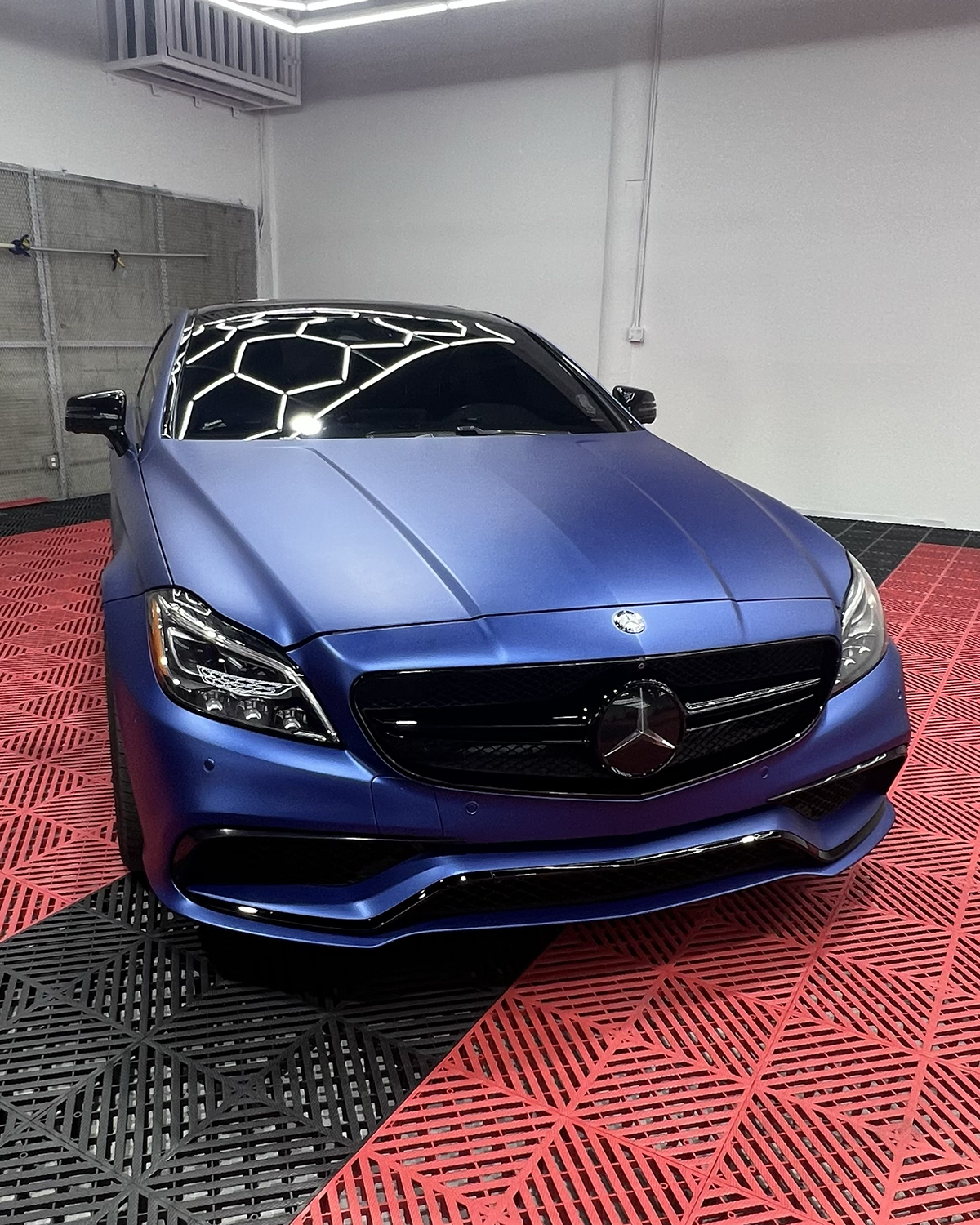 FAQs
Q1: How long will the car wrap last?
A1: When properly cared for, a car wrap can last up to five years. Regular maintenance, such as gentle hand washing and avoiding harsh chemicals, will help preserve its vibrant appearance.
Q2: Can I remove the car wrap if I change my mind?
A2: Yes, one of the advantages of car wraps is that they are removable. However, we recommend having a professional handle the removal process to ensure the best results.
Q3: Will ceramic coating protect my car from scratches?
A3: While ceramic coating adds an extra layer of protection to your car's paintwork, it is not impervious to scratches. However, it can help reduce the risk of surface-level scratches and make it easier to clean the vehicle.
Q4: How often should I reapply ceramic coating?
A4: With proper care and maintenance, ceramic coating can last up to two years. However, it is advisable to have regular inspections and touch-ups to maintain its effectiveness.
Q5: Can I choose a different color for my wheels' powder coating?
A5: Absolutely! Wheels powder coating offers a wide range of color options to suit your preferences. Our experts can guide you in selecting the perfect color that complements your vehicle's overall aesthetic.